Title: RYDER ON THE STORM
Issue Number: 1 (of 3)
Publisher: Radical Comics
Writer: David Hine
Artist: Wayne Nichols
Colors: Feigian Chong& Sansan Saw
Letters: Richard Starkings & Jimmy Betancourt
Cover Artist: Francesco Mattina
Price (USD): $4.99
Release Date: NOW ON SALE
Genre: Supernatural
MATURE READERS
I read the promotional preview of this story, which is about 16 pages. After
reading the full first issue it seems there is a lot more to it than I first
thought. The first several pages set the scene in a slightly different world
than ours. Ryder is a detective in this major city with some technology that is
a throwback to the previous century. Ryder is a private detective but it seems
that term here also has the connotation of a personal advocate or lawyer. His
latest client is a dancer who claims her rich boyfriend, Michael Hudson, killed
himself by drilling several holes in his head while she was out of the room.
Ryder finds evidence that he was on a psychotic drug that not only produces
hallucinations but also dulls pain sensors making it entirely possible. As she
is off with the police he returns to his office only to get a delivery of
Hudson's journals. After reading them his client, Katrina Petruska, shows up and
we learn some fascinating aspects of the case. According to Hudson this world
was once run by an ancient race of Daemons. They fell from power and for decades
have been trying to regain control. Furthermore the oldest and most respected
family dynasties in the city, the Dantons, are descendants of the Daemons.
Hudson's parents who were journalists were investigating the Dantons met
untimely deaths. The book goes a lot further in the remaining pages. Ryder
visits Katrina's work, which is a whole other trip into voyeurism, masochism and
even a group orgy as entertainment. What happens as he follows her from work is
the big surprise. By the end we learn the reality of the daemons and meet a new
ally that saves Ryder in a very unorthodox way. But something even more
astounding is saved for the last panel. While the first half stimulates your
curiosity the second half moves right along with lots of exposition and action.
The art is very strong in support of a script that moves through a variety of
scenes and characters. It is a gripping story executed well.
Title: ULTIMATE THOR
Issue Number: 1
Publisher: Marvel
Writer: Jonathan Hickman
Artist: Carlos Pacheco
Inker: Dexter Vines
Colors: Edgar Delgado
Letters: Clayton Cowles
Price (USD): $3.99
Release Date: NOW ON SALE
Genre: Super Hero
This latest entry into the Ultimate line of titles has three major plots to
follow. In the present the Thor we know from the Ultimates is under the care of
J. Braddock in Brussels. He spends his days creating a huge diagram of ancient
runes on the floor of a large room in the facility. Braddock has called in Dr.
Bruce Banner to help salvage their "super soldier" subject who believes he is
actually Thor of Norse myth. Another plot takes place during WWII as Baron Zemo
requests one hundred thousand me from Reichsfuhrer Himmler for a plan that
involves a box of stones each with a unique rune on it. With them he plans to go
to a certain location and access a portal that he believes will bring victory
for the Fatherland. The third plot goes way back eons, to Asgard at a time when
Thor, Balder and Loki have good relationships and fight together against the
frost giants who continually try to invade Asgard. The script is structured to
lay the groundwork for what is to come. We get the beginning of the merging of
the last two plots near the end. Where this will intersect, if indeed it does,
with the modern Thor remains to be seen. So while it is not totally satisfying
plot-wise, very few first issues are. Hickman has a grand scheme and so far it
is going at the pace he wants. The art is pretty decent and very detailed. One
scene of Odin watching he forging of Mjolnir particularly shines. Since this
story does not heavily rely on other Ultimate books it would be good for non-
Ultimate fans to see what is up with this alternate Thor.
Title: THE CBLDF PRESENTS LIBERTY ANNUAL 2010
Publisher: Image
Creators: Darick Robertson, Richard P. Clark, Jimmy Betancourt, Fabio Moon,
Gabriel Ba, Garth Ennis, Rob Steen, Anina Bennett, Paul Guinan, Rob Liefeld, Tom
Mason, Evan Dorkin, Sarah Dyer, Paul Pope, Don Simpson, Paul Fricke, Gail
Simone, Amanda Gould, Scott Morse, Geoff Johns, Scott Kolins, Larry Marder, Jill
Thompson, Brian Azzarello, Frank Miller, Terry Moore, Jeff Smith, Roshell
Bautista, Szymanowicz, Skottie Young, Jimmy Palmiotti, Amanda Conner, Ben
McCool, Billy Tucci and Colleen Doran.
Cover Artists: Dave Gibbons/Darick Robertson/Charlie Adlard & Cliff Rathburn
Price (USD): $4.99
Release Date: NOW ON SALE
Genre: Fund-raiser collaboration anthology
MATURE READERS
The Comic Book Legal Defense Fund is a non-profit organization that helps defend
the first amendment rights of creators, retailers, publishers, librarians and
readers. To do this it must raise funds. One of the ways has been the
publication of annuals with stories and art contributed for no compensation by
some top creators in the business. The proceeds after paying for costs of
printing and distribution go directly to the CBLDF to help fund their efforts.
You can help that effort by buying this comic. But as I like to point out, if
you really believe in the cause a contribution directly to the CBLDF would get
more money to them. You can participate by going to www.cbldf.org or calling 1-
800-99-CBLDF. That's 1-800-99-22533. This year's annual has the usual mix of
stories and art that span genres. Top billing on the cover goes to Frank Miller
who provided a two-page spread of SIN CITY dancer Nancy in the buff dancing with
an admonition from another character about letting her be. One of my favorites
is more to the point still and the President of the CBLDF himself, Larry Marder,
does it. His unique art featuring characters from BEANWORLD explaining the first
amendment and what it means followed by an appeal for funds. One of the funnier
bits is an episode of Evan Dorkin and Sarah Dyer's MILK & CHEESE, dairy products
gone bad. The two learn about the CBLDF and decide to conduct their own form of
fund raising. There is a terrifically rendered episode of Conan by Derik
Robertson, Richard Clark and Jimmy Betancourt that turns the tables on a shaman
who has controlled a tribe and its sources of food for his own benefit. Fabio
Moon and Gabriel Ba do a more serious story. It involves a family trapped as
workers on a planet somewhere. They are told they can finally leave and with
great anticipation board a space ship to leave. Their cruel fate is a metaphor
for the restrictions placed on some folks. In a very satirical send up of bad
girl art Garth Ennis and Bob Steen discuss the fate of a certain creator called
the Legend. He was tasked at the time to come up with a comic for adults. So he
took two well-endowed well-known female characters, Nosferina and Barbarian
Queen, and had them manipulated into smashing their naked breasts into each
other by the drumbeat of the evil Baron Saffik Perv. The issue outsold anything
else on the market but the Legend was fired for his effort. There is much more
in the volume. Readers who have sought out the diversity in the offerings will
welcome seeing the variety of stories and pin ups in this issue. It is worth the
price knowing where the money is going. So what are you waiting for?
Title: CHAOS WAR
Issue Number: 1 (of 5)
Publisher: Marvel
Writer: Greg Pak & Fred Van Lente
Artist: Khoi Pham
Inker: Tom Palmer
Colors: Sunny Gho
Letters: Simon Bowland
Cover Artist: Ed McGuinness & Morry Hollowell
Price (USD): $3.99
Release Date: NOW ON SALE
Genre: Super Hero
We begin in a supernatural realm where Lord Nightmare is cherishing the thought
of Hercules' return to Earth. He should be more concerned with the visitor about
to appear - King Chaos. Chaos is beginning a campaign to end all existence.
We'll get back to that. Hercules is coming back and he makes a grand appearance
slamming to ground in New York City announcing that he has come to warn mortals
of their doom. He knows King Chaos is at hand. But Herc appears to be ranting
like a mad man creating such a stir that the Avengers show up and soon so does
Amadeus Cho. Cho explains that he brought Hercules back by gaining the powers of
an omnipotent god, pulling him out of the alternate reality he was banished to
by Hera, and then funneling the power into Hercules himself. So the god of
heroes is super amped right now. The beginning of this "event" sets up on these
two major points - King Chaos is out to destroy all creation and Hercules is
super powerful. This first issue is just to get us started and get some of the
other heroes involved before it even starts. So far there are some interesting
aspects I haven't even touched on. The art on this one is not very impressive to
me, just adequate. Of course what major event doesn't have tie-ins? So, the main
title is five issues and tie-in titles include INCREDIBLE HULKS and one-shot and
mini-series of Chaos King, God Squad, X-Men, Ares, Alpha Flight, Thor and Dead
Avengers. That will be 19 comics if you get them all or just 5 if you get this
title. Either way it is interesting enough so far. There is even a back up story
by Greg Pak and Fred Van Lente with art by Reilly Brown, Terry Pallot and Val
Staples. It is titled "I Was Legend" and is an untold tale of Hercules in exile.
In the alternate Earth called the Continuum. Here Hera had plans to replace
Earth with this alternate but was stopped by Hercules who then became trapped in
the Continuum. It at first appears to be a world with no people. But why is
Amadeus here and why are all these monsters constantly attacking? It is a quick
look at what came before Chaos War with much better art in my opinion.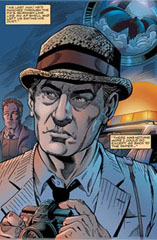 Title: KOLCHAK: THE NIGHT STRANGLER
Issue Number: ONE-SHOT
Publisher: Moonstone
Creator: Jeff Rice
Writer: Richard Matheson
Artist: Amin Amat & Stefano Martino
Colors: Daniel Vozzo
Letters: Bernie Lee
Cover Artist: E.M. Geist/Timothy Lantz
Price (USD): $5.99
Release Date: NOW ON SALE
Genre: Supernatural Crime Drama
Kolchak is a made for TV character played by Darren McGaven. In the original TV
movie, THE NIGHT STALKER, he was a newspaper reporter in Vegas following the
exploits of a killer who was killing women and draining their blood. He tries to
convince the police and his boss that they are dealing with an actual vampire
and in the end had to kill it himself. But then it all got swept under the rug
and he drove off into the sunset seeking a new job. This comic book is a sequel
to that story. Kolchak has moved on to Seattle and to his surprise so has his
old boss, Vincenzo. Kolchak lands a job on the paper and begins right in
investigating the murder of a belly dancer a few days earlier. The story here
follows a similar pattern to the NIGHT STALKER. He has trouble with the police
co-operating, uncovers key clues himself but still can't get help. This is a big
comic at 48 pages with no ads of any kind. You get lots of scenes and dialogue
in that many pages. I found it read almost like watching a television show. It
was like someone had taken a script and depicted word for word onto the page.
The art team does a tremendous job bring it to life and adding he perspective
needed. I am a fan of some of the crime shows on TV. This story would be a good
episode to watch.
Title: TRON: BETRAYAL
Issue Number: 1 (of 2)
Publisher: Marvel
Writer: Jai Nitz
Plot: Starlight Runner Entertainment
Artist: Andie Tong
Colors: Pete Pantazis
Letters: John J. Hill
Cover Artist: Salvador Larroca
Price (USD): $4.99
Release Date: NOW ON SALE
Genre: Science Fiction/Movie Prequel
This is a two-issue prequel to the movie TRON: LEGACY, which will be out on
December 17. This story comes after the events in the original movie TRON. It is
1983 and Kevin Flynn is now in charge of the largest video game company in the
world, Encom. Kevin has also secretly built a digital world filled with living
programs called the Grid. It seems this world has taken on a life of its own. As
the story opens Kevin has entered the grid and is cycling along with his old
friend, the security "program" known as Tron. There is a problem parts of the
Grid are disintegrating, being eaten by "bugs" in the program. While Kevin is
working on the problem from the outside Tron is trying to protect the Grid from
the inside. Kevin gets so involved in his work that later he is late for a
doctor's appointment with the mother of his unborn son, Jordan Canas. His life
is so full that he finds it hard devoting enough time to running the company,
fixing the Grid and paying attention to his personal life. Something has to
give. The other players in this drama are the artificial life forms that run the
Grid. While Tron is in charge of security he is also the main attraction in the
games, motorcycle races that are even more complex than the original ones Tron
had to participate in. Clu and Shaddox are in charge of keeping things working
in the Grid. Clu and Flynn call Tron to show him something amazing that has
happen. A new, self-generated life form has appeared on the Grid, a female being
calling herself Ophelia. Ultimately this is a drama about two worlds about to
clash. Kevin needs to look after two families - the real world family with wife
and son and the artificial world with his created family. The artificials in the
Grid refer to Kevin as the creator. Clu was created to be the presence of the
creator on the Grid. Will there be a time when survival of the Grid comes before
loyalty to the creator? The title itself suggests something has got to give. It
is an interesting premise. The story and art are setting the background so that
the movie will be that much richer when it does come out. I found the art
exceptional in depicting the contrasts of the worlds and particularly the action
in the Grid. The narrative text supplements the dialogue giving us the first
person observations of Kevin in a more overview form than what is happening in
the panels. I would definitely recommend this series to anyone anticipating
seeing the upcoming movie.
*****
TRIVIA CONTEST!!!! WIN REAL PRIZES!!!!!
If you think you know the answer to the trivia question send your guess via
Email to me at ComicBkNet@aol.com and you could win the prize. The first six
correct answers will be assigned a number and a roll of the dice will determine
the winner. You should put your real name in your message so we know who you
are. Prizes must be claimed at our store within 30 days of winning. The prize
will be a $10 credit slip, which will be redeemable for merchandise at regular
retail or in-store ongoing specials only. Only one prize per person will be
allowed per every 4 weeks. I will be the sole judge of the correct answer even
if more than one answer could be correct. Submit only one answer per Email
please but guess as often as you like.
Last week's trivia question:
What was the title of the religious themed hero comic published by Marvel and
Nelson Publishing in 1993?
ILLUMINATOR was the answer we wanted and the winner by the dice roll is
Christopher Graves.
Here was your no prize question:
On what show did the Beatles make their TV debut?
Not the Ed Sullivan Show as some thought. The Beatles made their first
television appearance on the show "Teenager's Turn" in 1962. They had Pete Best
playing drums and they performed the Roy Orbison song, "Dream Baby."
THIS WEEK'S TRIVIA QUESTION:
What was unusual about the cover of SUPERBOY #1, the debut issue of this major
character in 1949?
Here is your no prize question:
What act did Decca Recording Co. reject with this quote in 1962, "We don't like
their sound and guitar music is on the way out"?
Folks, you never know who among the readers is knowledgeable about the question
so don't hesitate to send in an answer - even days after it appears.