Title: DARK HORSE PRESENTS
Issue Number: 1
Publisher: Dark Horse
Cover Artist: Paul Chadwick - Frank Miller & Dave Stewart - Paul Pope with
Lovern Kindzierski
Back Cover: Geof Darrow
Price (USD): $7.99
Release Date: NOW ON SALE
Genre: Mixed Anthology
Mature - Comics on the Edge
Probably the most influential comic book anthology series in modern times has
been DARK HORSE PRESENTS. In its initial run it introduced us to Concrete, Sin
City, The Mask, adaptations of Aliens and Predator as well as showcasing the
works of many well-known creators. For their 25th Anniversary Dark Horse has
started up the title again and as in the old days there is something for
everyone. Before I get into the stories I must mention there is an interview
with Frank Miller about his new series Xerxes that is fun reading. It is
accompanied by a four-page preview but the meat of the piece is the interview
itself. You'll have to wait for the comic to get more of the actual story but
this interview is a good start.
Story: Concrete: Intersection
Creator: Paul Chadwick
Concrete began in the original DARK HORSE PRESENTS #1 so it is fitting he leads
of the second launch. For those unfamiliar with the character he is a writer who
was tuned into a towering man of stone by aliens. He is not a super hero but
sometimes does fantastic feats and occasionally saves lives. This self-contained
story has him walking his dog one night when he notices a man climbing into a
neighborhood window. He hails a car and asks the driver to dial 911 - his
fingers are too large for any normal telephone. What turns out to be a bit of a
domestic dispute turns into a chase and then an unexpected side issue due to our
hero's keen observation. It is a delightful read and a good introduction to new
readers. I highly recommend any of the CONCRETE collected trades as examples of
good storytelling in both word and art.
Story: Marked Man - part 1
Creator: Howard Chaykin
Colors: Jesus Aburto
Letters: Ken Bruzenak
Fans of Chaykin will enjoy this story of a man named Mark LaFarge. It begins
with a clever heist of an armored car by Mark and his two accomplices. The job
is a success and he relaxes later in a gentleman's club giving us insight into
his life. But then Chaykin does a 360 and we find out he is a family man with
his wife totally clueless and a bit of a bitch. It is interesting stuff that
could get pretty tricky later on. The downside for me was the coloring, which is
good enough in craft but just off enough to annoy me. You may differ on that
opinion.
Story: Blood - chapter 1
Creator: Neal Adams
Colors: Moose
Another master of the medium, Neal Adams, contributes to this title with a story
with alien implications. At first it does not seem that way as a man named
Lionel is being brutally interrogated by gangsters. They want to know about
Jorge Maslow whom they call Blood. The dimwitted victim rambles on about Jorge
being his friend but as Blood he is no one's friend. Jorge is a cop that has
jailed hundreds of bad guys and torn up more. The gang is setting him up to
rescue Lionel so they can finally get him. But the tale Lionel tells may bode
ill for their plans. It is a good first chapter and of course Adams does a good
job as always graphically.
Story: Finder: Third World - chapter 1
Creator: Carla Speed McNeil
Colors: Jenn Manley Lee and Bill Mudron
FINDER is a series by Carla Speed McNeil that has been around for a long time
and has gotten some critical acclaim. There is no need to worry about that
though as this story is structured to read well without any knowledge of the
lead character. Mr. Ayers is looking for employment and the setting is an
interview at a job placement firm. Oddly he is wearing a rather bloodstained
jacket and shirt though it is never commented on. As he is questioned about his
background and previous jobs we get snippet panels of his past experiences as a
bouncer, which he relates in cleverly worded terms so as to not reveal a seedy
past. He finally secures a job as a courier and the chapter ends with him
finding a very innovative way of delivering a package no one else will touch. As
I said the entire thing is very readable and may get you interested enough to
want more. The art is terrific.
Story: Mr. Monster vs. OOOAK!
Creator: Michael T. Gilbert
From the intense stuff we next get into some silliness in the form of homage to
Jack Kirby and Stan Lee as Mr. Monster fights one of those giant hulking beasts
like those from the days of Marvel's monster mags. Oooak is the tree that walks
like a man and it seems that nothing that our hero and his pal Izzy come up with
can stop him - even an atomic bomb. The last effort is something deadly to all
wood, but will it be enough? As I said this is just a mirthful tale to break up
the action and it is a welcome addition to this volume.
Story: How Interesting: A Tiny Man
Writer: Harlan Ellison
Illustration by: Leo and Diane Dillon
This is entirely a text piece with one illustration at the beginning. It is a
short story told in the first person by a man who created a tiny man about five
inches tall. He does not remember why or how the idea even came to him nor does
he explain how he did it. So we are left to suspend disbelief that such a thing
is possible. Where does the story go from there? At first the tiny man is a
curiosity to be marveled at by those who meet him. But he is not exploited by
his creator but rather cared for, educated and taken places around town. But as
word gets around there are some who view the tiny man as an abomination. And
eventually a groundswell of anger arises and the two are hounded and eventually
hunted. Ellison offers two alternate endings so before you turn the third page
to see them decide how you might end the story. It is cleverly crafted by one of
the masters of the genre and a pleasant surprise in this comic.
Story: Murky World
Creator: Richard Corben
In one of the strange worlds from the mind of Corben we find a man named Tugat
attacked by deadlings - this world's version of zombies. Tugat is rescued by a
large woman, Guno, who offers to help him find his horse. She leads him to
Sorgof's house that is guarded by deadlings and eager to eat the horse. The
adventure leads to a surprising confrontation. It is classic Corben with his
very unique black & white style and fantastical imagination.
Story: Star Wars: Crimson Empire III - The Third Time Pays for All
Writer: Randy Stradley
Artist: Paul Gulacy
Colors: Mike Bartolo
Letters: Michael Heisler
CRIMSON EMPIRE caries on into yet a third chapter ably drawn by a favorite of
mine, Paul Gulacy. This Star Wars tale takes place ten years after the death of
Emperor Palpatine. In a time of relative peace for the New Republic and it
begins with a bounty hunter, Kir Kanos, tracking down his latest prey. Kir was
one of Palpatine's personal guards. As this episode shows us his methods and
relative ethics another ponders the day when she will meet Kir again. Mirith is
the new head of security for Leia and has vowed to kill Kir when they next meet.
This is all a set up for the new series soon to come in October.
Story: Snow Angel
Creator: David Chelsea
The volume finishes with this delightful story that starts with kids having fun
in the snow. The art is basic and colored very well. The turn of the plot occurs
as one kid somehow detects a bicycle being stolen and she flops on the ground to
make a snow angel. To our surprise an angel-like being rises into the air and
takes after the thief. Yes this is a new kind of super hero and frankly
something I think is unique. There is more to come, as it appears her parents
are on to her alter ego. I hope to see more of this character as I enjoyed such
a change from the usual hero fare.
Title: 68
Issue Number: 1 (of 4)
Title Story: "And If You Go Chasing Rabbits."
Publisher: Image
Writer: Mark Kidwell
Artist: Nat Jones - back up story Tim Vigil
Colors: Jay Fotos
Letters: Jason Arthur
Price (USD): $3.99
Release Date: NOW ON SALE
Genre: Horror/Zombie
Mature - Comics on the Edge
Evidently this comic had an original one-shot published by Image in 2006. You
can find it in back issues or in a collected trade called HORROR BOOK. The
setting is Viet Nam in 1968. It opens at Firebase Aries as we look in on typical
soldiers of that time given a new mission to hunt down a lost patrol after just
getting back from a recon themselves. Making it worse they find one of the
wounded they brought back didn't make it. Before they get a chance to leave they
come under sniper fire. Their crack shot supposedly already killed that enemy
but when he looks through his scope to exactly the same spot he is stunned at
what he sees. This is the crux of the series. There are zombies in the jungle.
The patrol goes out and encounters the Viet Cong and as they mop up they
discover a tunnel opening - something used extensively by the Cong during that
war. As they send their own tunnel rat in to clear the tunnel we look back at
the base as the doctor and the captain learn that the dead in their field morgue
are not quite dead. The guys in the field are soon under siege by zombies and
the tunnel rat is not in much better shape. I like the way the story builds to
the revelations and then the confrontations. Not everyone survives in any zombie
tale I have read. In fact in most of them the question is will anybody? This
series is promising to keep us engaged and guessing. The art is excellent in
both the main story and the back up. The four-page backup, "Mouths of Babes",
takes place in a bar in a village. A boy zombie wanders in with a string tied to
one tooth. The inevitable fight ensues and while the humans prevail it is that
string that makes an excellent twist in the end. The book is good reading for
any fan of the genre.
Title: SUPER DINOSAUR
Issue Number: 1
Publisher: Image
Writer: Robert Kirkman
Artist: Jason Howard
Letters: Rus Wooton
Price (USD): $2.99
Release Date: NOW ON SALE
Genre: Science Fiction/Adventure
All Ages
This is certainly a wide break from WALKING DEAD for Mr. Kirkman. It is the
story of a brilliant young boy, Derek Dynamo, who is a super hero of sorts
thanks to the discovery of Dynore in the world inside our own dubbed Inner
Earth. His father, Dexter Dynamo, discovered this hollow Earth place where
dinosaurs still exist. Dexter's former partner turned evil and now uses his own
scientific genius to create Dinomen, dinosaurs that walk like men and do
nefarious deeds. Derek fights them with his pal Super Dinosaur, an intelligent
T-Rex that uses a special suit built by Dexter and powered by Dynore. The suit
has arms proportionate to his body (because his forearms are so small) and all
kinds of gadgets built into it. Rounding out the group is Derek's robot, Wheels.
But their home life has been bothering Derek lately. His father's memory seems
to be slipping and often Derek solves problems Dexter is too tired to finish and
the next day thinks he did it himself. When new helpers are hired by the
military liaison they work with Derek worries his father's secret will be
discovered. So we have a fantastical world with interesting characters and some
subplots to make things more interesting. Even the Dinomen are not all they
seem. The plot is well structured and the artwork fits perfectly. It is sure to
appeal to kids of all ages who can get into the fun of comics that are not all
grim and gritty. Hard core superhero fans may not care for this type as much.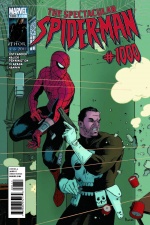 Title: SPECTACULAR SPIDER-MAN 1000
Issue Number: 1-Shot
Title Story: Spider-Man & Punisher One Shot
Publisher: Marvel
Writer: John Ostrander
Artist: Todd Nauck & Michael Ryan
Inker: Mark Pennington & Victor Olazaba
Colors: Ian Hannin
Letters: Joe Sabino
Cover Artist: Paolo Rivera
Price (USD): $4.99
Release Date: NOW ON SALE
Genre: Super Hero
This is a double-sized comic for $5 so you get your money's worth with an
original team-up story set several years ago and a reprint of another Spider-
Man/Punisher adventure. Why they decided to give it a fake number, 1000, is
probably because it would sell better than just calling it a one shot. Anyway,
the main story has an uneasy alliance between Punisher and Spider-Man working
together to take down a Russian gang that is in the drug trade. Spidey insists
that Frank uses only rubber bullets and of course Frank's dialogue is all tough
guy doing whatever it takes and morals be dammed. The side issue is a high
school student who is a little too aggressive on the football field and gets
benched. His whole future is planned around getting a football scholarship and
his dad has no use for him after he screws up in this way. In fact his dad is
such a bully it is no wonder the kid himself is that way and is also involved in
selling drugs to other kids. Naturally the main players intersect at points. The
kid stands up to his father and takes another bad turn after believing Spider-
man is something he is not. The story has a moral in the end but it is less
about Spider-Man and Punisher than it is billed.
Back up story: The Punisher Strikes Twice!
Reprinted from THE AMAZING SPIDER-MAN #129
By Gerry Conway, Ross Andru, F. Giacoia, D. Hunt, J. Costanza & Dave Hunt
If you are not familiar with this story from the title you will be from the
reprint of the cover. This issue of ASM marked the first appearance of both the
Punisher and the Jackal. The story has the Jackal hiring the Punisher to kill
Spider-Man. When the first attempt fails and Spidey goes back to look for clues
about his would be assassin he finds a bigger mystery. This story not only gave
some early depth to the motivations of Frank Castle but also revealed the
devious nature of the Jackal. It is a classic story from 1974 and is worth
reading again.
Title: HATE ANNUAL
Issue Number: 9
Title Story: Heaven & Hell
Publisher: Fantagraphics Books
Creator: Peter Bagge
Colors: Joanne Bagge
Price (USD): $4.95
Release Date: NOW ON SALE
Genre: Underground Comedy
Mature - Comics on the Edge
Every week I am on the lookout for something unusual - that is something I
wouldn't normally read - something out of my comfort zone. Seeing Peter Bagge's
latest offering on the shelf made my choice for me. I enjoy all different kinds
of comics with lots of super hero titles on the list. But I also go for well-
crafted horror, mystery, science fiction and intelligent humor. Some of the
titles I review are not those I would continue to buy though I hope I recognize
their appeal to others and the level of talent required to be successful. Bagge
has a style that reminds me of the underground comics back in the early
seventies. It is hard to describe but you know it when you see it. The
characters have somewhat exaggerated features - bowed legs, large nose,
snakelike limbs - something different on each one. His composition is good and
there is detail and good coloring in each panel. It may not be appealing to
every eye but it is solid craftsmanship. The story is about a family and their
friends. The main characters are Buddy and Lisa Bradley. They have a son Harold
and a dog named Woof. Buddy and his friend Jay are in the scrap metal business
together. A lot of things these people do are strange. Buddy and Harold like
their waffles with a slice of provolone melted for exactly 9 seconds on top for
its tastiness and aesthetic quality. Harold cooks burgers in shapes of stars,
Christmas trees and Hello Kitties. Their life, as seen through the eyes of Jay's
girlfriend is perfect. This is the Heaven part of the story. The Hell part comes
when Lisa gets a call and the family is off across the country to see her
parents. The whole thing becomes crazy, as Lisa has to deal with her mother's
bossy behavior, her father's dementia and the druggie cousin laying low in a
trailer in the yard. While Buddy goes out with the cousin to keep him away from
Harold Lisa has to deal with her mother and confront her foster brother and his
sanctimonious wife. All the ugly secrets on Lisa's side of the family come out
and somehow she and Harold stay sane even when the choice at the end of the
story is a hard one. The story rambles on some in an almost stream of
consciousness way as if Bagge wants to add yet another bizarre twist on the spur
of the moment. It certainly was a diversion from my normal reading and for that
it was okay. I enjoyed his wacky art style and even the craziness of the very
dysfunctional family. It is not for everyone but it deserves a look.
*****
TRIVIA CONTEST!!!! WIN REAL PRIZES!!!!!
If you think you know the answer to the trivia question send your guess via
Email to me at ComicBkNet@aol.com and you could win the prize. The first six
correct answers will be assigned a number and a roll of the dice will determine
the winner. You should put your real name in your message so we know who you
are. Prizes must be claimed at our store within 30 days of winning. The prize
will be a $10 credit slip, which will be redeemable for merchandise at regular
retail or in-store ongoing specials only. Only one prize per person will be
allowed per every 4 weeks. I will be the sole judge of the correct answer even
if more than one answer could be correct. Submit only one answer per Email
please but guess as often as you like.
Last week's trivia question:
What was the original choice for a name for the ULTRAVERSE before it was changed
for copyright reasons?
The answer is the MEGAVERSE. The winner this time is Mike Dooley.
Here was your no prize question:
What was the first lunchbox featuring a popular image on it?
We have followed a theme for three weeks. Hopalong Cassidy was featured on the
first lunch box to bear an image, causing sales for Aladdin Industries to jump
from 50,000 units to 600,000 units in just one year.
THIS WEEK'S TRIVIA QUESTION:
Who battled THE LUMP in "The Battle of the Id!"?
Here is your no prize question:
What U.S. city is the largest in land area in the contiguous 48 states?
Folks, you never know who among the readers is knowledgeable about the question
so don't hesitate to send in an answer - even days after it appears.