My View
David LeBlanc
ComicBkNet@aol.com

David LeBlanc was the Editor of the Comic Book Network Electronic Magazine for
over ten years. He is a life-long fan of comics and moderated online comic book
forums long before the Internet became the place to be. David works part-time at
That's Entertainment, the Eisner-winning comic store in Worcester, MA.


REVIEWS

The comics reviewed are chosen by David not by That's Entertainment management
or staff. The opinions expressed are his alone. If you have an opposing view you
are welcome to respond to David directly by Email at the address above.



Title: CAPTAIN AMERICA: FIRST VENGEANCE


Issue Number: 1 (of 7)
Publisher: Marvel
Writer: Fred Van Lente
Artist: Luke Ross & Neil Edwards
Inker: Crimelab Studios & Daniel Green
Colors: Richard Isanove & Sotocolor
Letters: Clayton Cowles
Price (USD): $2.99
Release Date: NOW ON SALE
Genre: Super Hero - Movie tie-in

This comic is not an adaptation of the upcoming Captain America movie. Rather it
is a tie-in that tells stories around the film - back-story and fill-ins of some
things that do not fit into the big picture. For those of us familiar with the
comic Captain America there is a lot of established history. But this is movie
continuity, a parallel Earth Cap. So this series will help us to unthink certain
things and add new things to form our picture of the cinematic Captain America.
Some parts of it will parallel scenes from the movie making it a true tie-in.
That alone makes it an essential way to get more out of the movie when it
finally debuts. Visually it is a good product with a mix of war scenes and
scenes from the life of a young Steve Rogers. It is very capable art with adept
inking and coloring. One plot occurs during the war in Nazi-occupied Danish
Straits in 1944. It is a lot of visual action as Cap parachutes into the heat of
the battle and proceeds towards his primary goal. As this moves forward with
little dialogue it is intertwined with scenes from his earlier life growing up
in Hell's Kitchen - listening to his sick mother tell him to follow his heart
and don't let others tell him what he can't do - standing up to bullies even
though he is not a match in strength - making a life-long friend and feeling his
heart break when his pal makes it into the service but he is rejected. It is a
well-plotted story and will hold your interest whether or not you have ever read
Captain America. It is highly recommended.


Title: FEAR ITSELF: SPIDERMAN


Issue Number: 1 (of 3)
Title Story: Spiderman: Day One
Publisher: Marvel
Writer: Chris Yost
Artist: Mike McKone
Colors: Jeromy Cox
Letters: Joe Caramagna
Price (USD): $2.99
Release Date: NOW ON SALE
Genre: Super Hero

This is obviously a tie-in to the Marvel summer event FEAR ITSELF. It does not
waste any time going into why things are the way they are. Rather it just shows
us a number of situations - a cross section of people who have things going
wrong in their lives and are about to take desperate measures. On the streets a
fender bender turns the on-looking crowd against one of the drivers because the
other driver accuses him of being a terrorist. The crowd swarms on him and only
a timely intervention by Spider-Man saves him from a beating or worse. It is
just one incident in a day where the whole city seems to have gone mad.
Meanwhile Peter can't seem to get a hold of his aunt by phone and is tied down
helping others stay alive. One man is about to jump out of a high story window,
a pregnant woman is helpless as her baby might be coming weeks early, another
man plans to protect himself from the people outside by shooting at them from a
window. Spider-Man tries to help one of them when he reaches the end of his web
literally and then is attacked by an unlikely source. It is all action with no
explanation about who or what is behind it all. How can Peter survive? What will
the madness do to his friends and loved ones? These are unanswered questions for
another issue. While I liked the art and the scripting I got the feeling of
jumping in a mid-plot. Like I have to know the big picture from the main story
in order to understand more about what is happening here. By the end though I
realized this is more self-contained with the event story as a backdrop. It will
take the whole three issues to appreciate what the creators are doing here.


Title: MOON KNIGHT


Issue Number: 1
Publisher: Marvel
Writer: Brian Michael Bendis
Artist: Alex Maleev
Colors: Matthew Wilson
Letters: Cory Petit
Price (USD): $3.99
Release Date: NOW ON SALE
Genre: Super Hero

The opening scene faked me out at first. Two men face each other near a
helicopter in the dessert. They are at odds. Lockley is mad at Bushman for
senselessly killing a professor to get the gold in a temple. Bushman does not
care and guns him down as he leaves but Lockley is not dead and makes his way
into the temple only to collapse at the foot of the statue of the moon god. Then
we learn it is a syndicated adventure series produced by Marc Spector, whom we
know as Moon Knight. It is only a prelude to the real adventure as the Avengers
call him outside of his debut party. Cap, Spider-Man and Wolverine are here in
Los Angeles to tell Marc about criminal activity moving in to take over LA and
they want to be sure he will be actively involved in shutting it down. About a
third of the book is taken up with these scenes to set up the premise of the
series. Next we see Moon Knight go into action as two hoods confront a rather
large man, Mr. Hyde, who is supposed to give them something. But this guy wants
his money and soon the whole deal goes bad. As Moon Knight steps in he will
eventually find out what it was that the two hoods came for and it is big enough
to call in the Avengers. The plot is slow to develop but it does have a big bang
at the end that promises a more involved story than I thought it would. I did
not care for the art very much though. The coloring is ok but the pencil and ink
work is just not visually appealing - lacking a certain polish I have come
accustom to in even one-off stories and unimportant mini-series. This is an
ongoing and I expected something better. So it is a mixed review at this point
with the story weighing more than the art.


Title: GRIMM FAIRY TALES: THE DREAM EATER SAGA


Issue Number: 0 (OF 12)
Title Story: Prelude
Publisher: Zenescope Entertainment
Plot: Raven Gregory, Joe Brusha & Ralph Tedesco
Writer: Raven Gregory
Artist: Anthony Spay
Colors: Falk
Letters: Jim Campbell
Price (USD): $1.99
Release Date: NOW ON SALE
Genre: Fantasy

I learned more about the whole line of Grimm Fairy Tales books from this one
issue than any of the few I have read in the past. This maxi-series will
evidently tie together the Realms of Wonderland, Oz, Myst and Neverland as well
as Earth. Earth is the Nexus that all the Realms flow through. Many evil things
from the Realms want to control Earth. The High Council has taken an oath to
protect Earth at all costs. The story in this prelude to the maxi-series
involves the Realm of Myst. It was here that a secret holy order recorded the
history of all that had been or would be. They each have second sight and where
trained from childbirth. Their records where stored in a vast library of "fairy
tales." The one book desired more than any other, the Book of the Lost. This
prelude story is about Baba Yaga as a young girl. It tells how the Dark One
murdered her family. On that night she swore vengeance on those who failed to
protect her family. She has appeared in issue of GRIMM FAIRY TALES, as has the
Dark One. In this brief story we see how Baba's mother tried to protect her when
the Dark One invaded, how she tore a page from the Book of the Lost and gave it
to Baba and how the High Council arrived to late to keep Baba from being
orphaned. The torn page is the Tale of the Dream Eater - a boogieman story told
to kids to get them to go to bed. How that will play out in the series remains
to be seen. More importantly, this value-priced zero issue has a treasure trove
of information in the back pages that explains each of the Realms and all of the
major characters in the Grimm Universe that will play a part in the big picture.
I did not realize there was a connection to any of the series having only
sampled some of them from time to time. The character sketches and text is
worthwhile in getting a thumbnail of the big picture before the story begins in
earnest in part one of the story in a title called ONCE UPON A TIME. It looks to
be fascinating.


Title: UNCOUTH SLEUTH


Issue Number: Graphic Novel
Title Story: Harry Johnson and the Case of the Crabbes
Publisher: Fulp Fiction
Creator: Charles Fulp
Writer: Charles Fulp
Artist: Craig Rousseau
Inker: Norman Lee
Colors: Liquid!
Letters: Comicraft
Cover Artist: Dean Yeagle
Price (USD): $12.99
Release Date: August 2011
Genre: Humor/Detective
PG-13

I was offered an advance copy of this graphic novel for review recently. It will
be solicited in the July PREVIEWS with "SPOTLIGHT and STAFF PICK" designations.
It was worth getting a copy to see why. It is about an outspoken, womanizing,
heavy drinking, and fedora wearing adventurer with a hot exotic dancer sidekick.
No not Charlie Sheen - he has or had two hot sidekicks. This is about Harry
Johnson. Now, seeing the name of the lead character brought to mind some crude
humor and sure enough it did not take long for Mr. Fulp to use that name as the
set up for a joke. In fact the book is full of that kind of humor, some of which
I cannot relate in a review meant for all ages. It starts in typical noir
fashion as a beautiful babe shows up at Harry's office to hire him to find her
missing father. When she declares she is looking for "a Harry Johnson" you can
fill in the blank before reading it. Yes, he is uncouth but he gets the job
done. Harry gets into it and learns that he has to talk to a friend of the
missing Doctor Crabbe (hence the double entendre title of the story) who is
vacationing in South America in a village of cannibals who have converted their
village to a couples only resort. So he needs to take a woman with him and
recruits a local exotic dancer. They are soon off to have an adventure that
involves some wild characters including evil scientists, Nazis, bodacious female
government agents and a few comical characters thrown in for fun. It is pretty
wacky all the way through. Harry never misses a chance to crack a crude joke
though some of the others get in some good ones as well. It is part Indiana
Jones and part James Bond with a lot of humor. The whole point is to not take
any of it too seriously. It is just for fun and does have a plot that gets
mostly resolved. You have to appreciate the style and some may find it
sophomoric. I took it for what it is. Though it is not laugh out loud funny I
was very amused. The art is very professional in a style that fits perfectly for
this kind of book. Check out the solicitation next month and go online to
www.uncoutsleuth.com to check it out for yourself.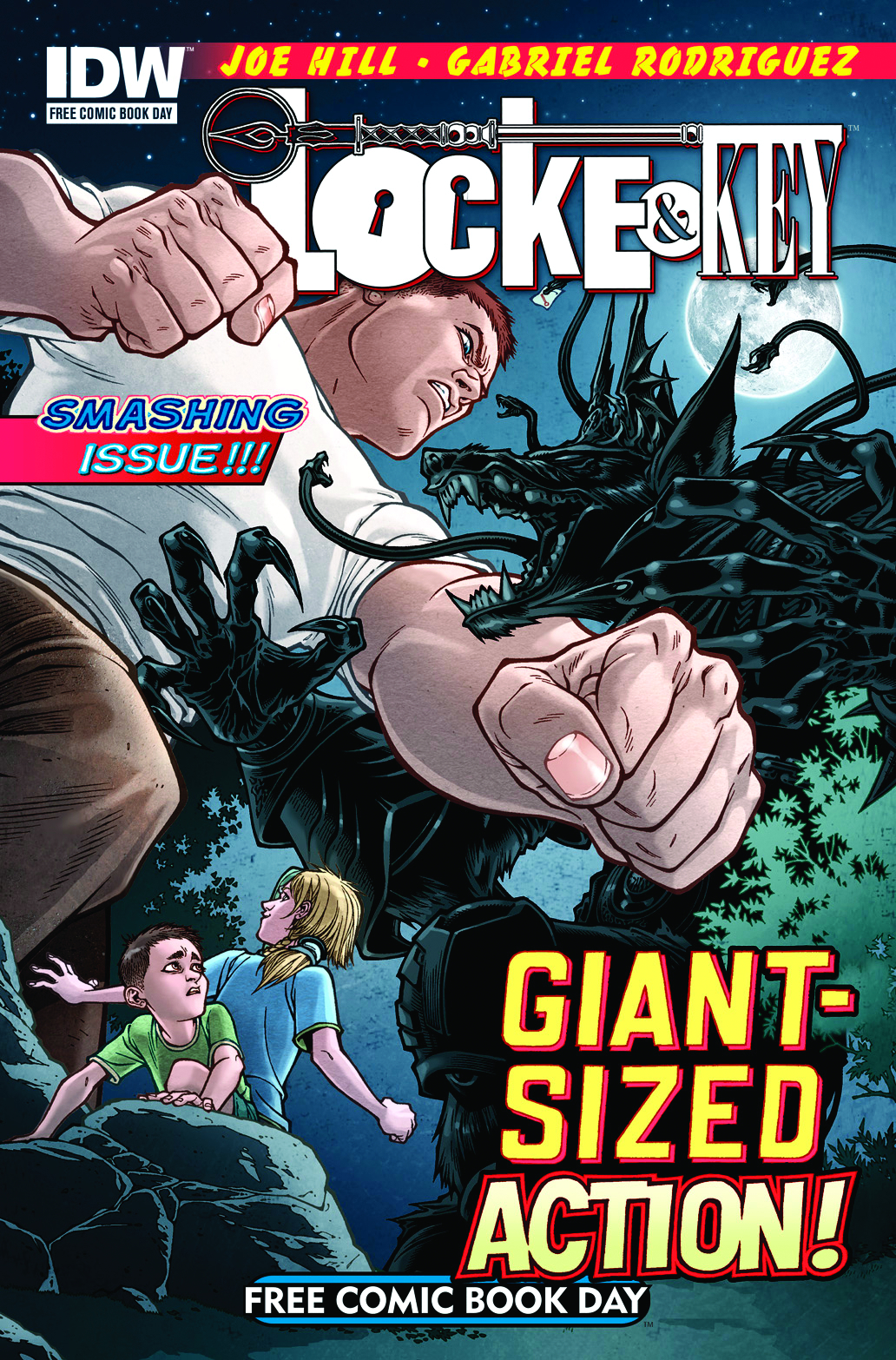 Title: LOCKE & KEY: FREE COMIC BOOK DAY EDITION


Publisher: IDW
Creator: Joe Hill & Gabriel Rodriguez
Writer: Joe Hill
Artist: Gabriel Rodriguez
Colors: Jay Fotos
Letters: Robbie Robbins
Price (USD): FREE
Release Date: FCBD - May 7
Genre: Horror

I have been following this series of mini-series since it began and have always
given it good reviews. The art is superb in detail, layout and finishes. The
story of the Locke family and the mystery of the various keys with interesting
powers they find is captivating and chilling. The man who killed their father is
back in the form of a boy masquerading as their friend. He is trying to obtain
one particular key, the key to the Black Door, and has resorted to killing and
even taking over other people's bodies to carry on his charade. The Locke kids
gradually discovered his secret but as the story has unfolded he has always been
one step ahead of them. The big story has still got a year to run its course.
This sampling for Free Comic Book Day is only a small taste of what it is all
about. In it Dodge uses the crown from a previous story to waken the shadows in
the Locke mansion in a master effort to find the last key. Each of the three
Locke kids struggle to get free from shadow monsters but it is the older boy,
Tyler, who saves the day in this short story with a large ending. As I said it
is only a sampling of the kind of story you can expect when the final story
begins in June. I like it and will follow it to the end.



*****




TRIVIA CONTEST!!!! WIN REAL PRIZES!!!!!



If you think you know the answer to the trivia question send your guess via
Email to me at ComicBkNet@aol.com and you could win the prize. The first six
correct answers will be assigned a number and a roll of the dice will determine
the winner. You should put your real name in your message so we know who you
are. Prizes must be claimed at our store within 30 days of winning. The prize
will be a $10 credit slip, which will be redeemable for merchandise at regular
retail or in-store ongoing specials only. Only one prize per person will be
allowed per every 4 weeks. I will be the sole judge of the correct answer even
if more than one answer could be correct. Submit only one answer per Email
please but guess as often as you like.



Last week's trivia question:




What is the source for the chapter tiles in MAGE: THE HERO DEFINED?


The source was from the Bard himself - Shakespeare's MACBETH. The winner by the
dice roll is Jeremy Mower.



Here was your no prize question:




What US city is the largest in land area in all the 50 states?


Sitka, Alaska, which covers 2,874 square miles, is the largest in area in all 50
states.



THIS WEEK'S TRIVIA QUESTION:


From 2003 - What organization owns the largest collection of comic books in the
United States, and probably the world? (6,000 titles, approximately one hundred
thousand pieces)



Here is your no prize question:


What famous American movie star's ashes are in an urn that also contains a small
gold whistle?

Folks, you never know who among the readers is knowledgeable about the question
so don't hesitate to send in an answer - even days after it appears.