My View
David LeBlanc
ComicBkNet@aol.com
David LeBlanc was the Editor of the Comic Book Network Electronic Magazine for
over ten years. He is a life-long fan of comics and moderated online comic book
forums long before the Internet became the place to be. David works part-time at
That's Entertainment, the Eisner-winning comic store in Worcester, MA.
REVIEWS
The comics reviewed are chosen by David not by That's Entertainment management
or staff. The opinions expressed are his alone. If you have an opposing view you
are welcome to respond to David directly by Email at the address above.
Title: MARVEL ADVENTURES SUPER HEROES
Issue Number: 17
Title Story: Hawkeye and Iron Man in "Rabid Dog"
Second Story: The Black Widow in "Tell No Secrets"
Publisher: Marvel
Writer: Paul Tobin
Artists: Ronan Cliquet, Marcio Takara & Amilcar Pinna
Inkers: Amilton Santos, Marcio Takara & Amilcar Pinna
Colors: Sotocolor
Letters: David Sharpe
Cover Artist: Barry Kitson & Val Staples
Price (USD): $2.99
Release Date: NOW ON SALE
Genre: Super Hero
All Ages
I have never been disappointed by any of the MARVEL ADVENTURES series of comics
so I decided to pick up the latest issue of the SUPER HEROES title. This book
serves up two stories for only three bucks and is appropriate for all ages. In
the first story Hawkeye is acting as a bodyguard for a National Security Courier
on a typical New York Street. Suddenly Iron Man enters the scene and takes
menacing steps toward the courier. That is when Hawkeye realizes it is only
Tony's armor being remotely controlled. Hawkeye begins defending them but soon
it is evident his arrows are no match for the armor. He calls Tony still
shooting arrows until he arrives. It takes the two of them to figure out who is
behind it all and how to stop the armor. It is a good story with action and a
bit of humor. The art is decent and compliments the plot very well. In the
second story it is the Black Widow who gets bodyguard duty when Nick Fury tasks
her with guarding a classified agent until she has to testify at a secret
meeting. The hook of the story is that he can't tell Natasha what the agent,
Linnette, saw or where and to whom she will be testifying. The rest of the story
has Natasha and Linnette dodging bullets, jumping from rooftops and making
escape after escape. All the while Natasha badgers Linnette for information
about who is after them but she gets nowhere. It is not until the leader of the
henchmen is revealed through a trick Natasha pulls that things become a bit
clearer. While not as much fun as the first story this one still has a sense of
adventure with a touch of humor. The entire issue gives the reader the sense of
comics as they used to be - self-contained stories with basic plots and less
darkness and angst. The MARVEL ADVENTURES series is fun for comic lovers of all
ages and the perfect introduction for the younger readers.
Title: DC RETROACTIVE: GREEN LANTERN - THE 80's
Issue Number: 1-SHOT
Title Story: The Big Betrayal
Publisher: DC
Writer: Len Wein
Artist: Joe Staton
Inker: Andy Owens
Colors: Allen Passalaqua
Letters: Wes Abbott
Price (USD): $4.99
Release Date: NOW ON SALE
Genre: Super Hero
In this latest DC RETROACTIVE comic we get two Len Wein stories about two Green
Lanterns. The lead story is a new one done in the style of the 80's featuring
John Stewart. The interesting thing about this story is that in it John reveals
his identity to his girlfriend, TV reporter Tawny Young. The next day she goes
on air and tells his secret to the world. There is no turning back as John when
pressed by reporters outside his apartment confirms he is Green Lantern. I guess
I never paid all that much attention to John's origins or the fact that his
identity is known. Apparently how it became known was not revealed until now.
(In the know readers can help me out if I am wrong on this one.) The plot
follows a predictable path as a villain decides to use Tawny as bait to lure
John out and make a name for himself. As I said, I was surprised that this story
takes place in a one-shot so long after John first appeared back in the 70's.
Still it is not bad and reflects the story styling of the times.
Back up story: from GREEN LANTERN #172 - 1984
"Judgment Day" by Len Wein, Dave Gibbons and Anthony Tollin
This is an excellent choice for a sample from the 80's. It happens to be the end
story of a yearlong arc when the Guardians exiled Hall Jordan from Earth. During
that time he was sent all over the sector doing tasks and having trials set
before him. While it does not get into the reasons why he was made to do this it
is a very readable story. He is anxious to have his final audience and plead his
case to be allowed to return to his home planet and his regular duties. It is a
well thought out script right down to the final scenes back on Earth - though a
bit melodramatic as I read it now.
Title: THE STAND: THE NIGHT HAS COME
Issue Number: 1 (of 6)
Publisher: Marvel
Creator: Stephen King
Writer: Roberto Aguirre-Sacasa
Artist: Mike Perkins
Colors: Laura Martin
Letters: Joe Sabino
Cover Artist: Tomm Coker with Laura Martin
Price (USD): $3.99
Release Date: NOW ON SALE
Genre: Horror
I have been following this adaptation of Stephen King's classic novel from the
start. Now that it is entering the final arc I wanted to take another critical
look at it. After the virus wiped out 99% of the population the forces of good
and evil have been gathering followers in the west. The Dark Man known as Flagg
is in Las Vegas with his followers planning his eventual move on those who
follow the wisdom and light of Mother Abigail in Colorado. But they are not
foolishly waiting for the inevitable. They have two of their own as spies among
the people in Vegas and a third is on his way. The story opens as the judge is
making his way from Boulder into the enemy territory. Flagg has given orders
that he is to be killed on sight but his head is not to be damaged. But how does
he know the judge is coming? We find out as the story unfolds. Meanwhile Dayna
Jurgens has successfully been accepted among the people of Vegas and even is
sleeping with Flagg's lieutenant, Lloyd Henreid. None of the spies are supposed
to know whom else was sent there but Dayna noticed Tom Cullen on the street. She
is about to be found out and Flagg is desperate to know whom the third spy is.
Can she keep the secret? This episode highlights the lengths Flagg is going to
and some of the minor things that will spoil his plans. I am more familiar with
the TV mini-series than the book so the extra depth that this comic series
brings out, like the scenes with the judge, makes it a new experience. The art
has been superb throughout the entire run. The action is heating up so check it
out now.
Title: FLASHPOINT: DEADMAN AND THE FLYING GRAYSONS
Issue Number: 3 (of 3)
Title Story: Death of the Family
Publisher: DC
Writer: J.T. Krul
Artist: Fabrizio Fiorentino
Colors: Kyle Ritter & Ander Zarate
Letters: Dave Sharpe
Cover Artist: Cliff Chiang & Jared K. Fletcher
Price (USD): $2.99
Release Date: NOW ON SALE
Genre: Super Hero
The FLASHPOINT mini-series are wrapping up, as we get closer to the DC reboot in
September. This title involves Dick Grayson and his family, as they exist in
this time-altered world. Instead of a circus in the US the Graysons are
traveling in war-ravaged Europe. Also in the circus is Boston Brand, the star
daredevil known as Deadman, the Mystic Kent Nelson with the Helmet of Nabu, the
nimble Ragdoll and Vertigo who can disorient people with his power. Most of
these retellings of standard DC characters put new twists on their lives. This
one probably does the least of that. The Graysons are trapeze artists and in
this story, like the other, the parents are killed while performing. The son,
Dick Grayson, will live to fight on against his parents' killers - though not as
the sidekick to another great crime fighter. The Amazons are after the Helmet
and their attack on the circus resulted in the death of the elder Graysons. The
other four are now faced with life or death if they choose to hide the Helmet.
This is an all action issue with heroic sacrifice and maybe a not so unexpected
outcome. Still it leads into part of the big finale to come. One or more of the
characters may have a big part to play later, in which case having read this
story will be a plus. We will have to see.
Title: THE LIVING CORPSE: EXHUMED
Issue Number: 1
Title Story: The Embrace of Nosferatu
Publisher: Dynamite Entertainment
Creator: Ken Haeser & Bud Hasson
Writer: Ken Haeser
Artists: Ken Haeser & Bud Hasson
Colors: Chris Hewitt
Letters: Ken Haeser
Price (USD): $3.99
Release Date: NOW ON SALE
Genre: Horror
I honestly picked up this comic book because of the title. I like puns and
oxymorons so I was intrigued by a corpse that is living!(?) Looking inside I
found some very accomplished artwork that is cartoon-like but very detailed in
every aspect right down to the finished coloring. The story goes back to a time
when zombies rose from the dead and a particular zombie killed a woman and her
daughter in front of a young boy. The boy realized this zombie was his dad who
died years before. Faced with his own son and memories of his past the living
corpse, John Romero, fled the scene and eventually was chosen by a supernatural
being (not really introduced but he is the narrator) to be the gatekeeper
between the land of the living and the realm of the dead. So he is a hero of
sorts fighting a one-zombie war against the variety of monsters that would take
over from the living. In the rest of the back-story we learn he has a sidekick
of sorts, a young girl named Lilith he stopped from committing suicide in his
graveyard. His young son, Taylor Romero, somehow survived the zombie horde and
eventually became an FBI Special Agent and has dedicated his life to have
revenge on his dead father for killing his mother and sister. Evidently much of
this story was in a previous series publication now collected in a trade
paperback called THE LIVING CORPSE OMNIBUS. The story in this new series has the
Living Corpse returning to his cemetery home only to find corpses strewn about -
victims of a vampire. Imagine his horror when he catches the vampire in the act
and it is Lilith! Not only does he have to deal with his ward trying to suck his
blood but the vampire that turned her shows up as well. Well this has some
classic horror themes and a bit of humor. As I said the art is very
accomplished. If you are tired of straight up zombie horror this diversion might
be good for you.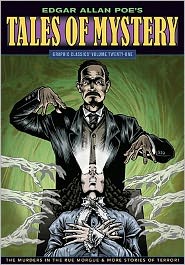 Title: EDGAR ALLAN POE'S TALES OF MYSTERY: GRAPHIC CLASSICS
Issue Number: VOLUME TWENTY-ONE
Publisher: Eureka Productions
Creator: Edgar Allan Poe
Contributing artists: Reno Maniquis, Michael Manning, Nelson Evergreen, Brad
Teare, Lisa K. Weber, Stan Shaw, Anton Emdin, Ronn Sutton, Craig Wilson, Roger
Langridge, Neale Blanden, Molly Kiely, Andy Ewen, Maxon Crumb and Leong Wan Kok
Cover Artists: Michael Manning & Stan Shaw
Adaptations by: Antonella Caputo, Tom Pomplun, Rod Lott, Rich Rainey, Ron Sutton
and Stan Shaw
Price (USD): $17.95
Release Date: August 2011
Genre: Horror/Mystery
If you have never tried the GRAPHIC CLASSICS line of comic adaptation trade
paperbacks this would be a good one to start with. In fact their first offering
was also adaptations of Poe's work. Publisher and Editor Tom Pomplun always puts
together a great collection of artists to bring the works of classic authors to
life in the form of comics. For this second volume of Poe classics he has
published a great book. The lead entry is "The Murders in the Rue Morgue done by
Caputo and Maniquis. It is a detective mystery that stands up with the best of
them. Poe uses the now famous locked room murder theme and two engaging lead
characters who are out to prove that the man accused of two dreadful murders is
really innocent. It is all there, from clues missed by the police to the method
used by the perpetrator to escape the locked room. I won't spoil the final
reveal but it really is one of Poe's better works not relying on horror. The
creative team does it justice to catch the essence of the plot with really fine
art. It is my favorite of the book. Probably a close second for me is "Hop-Frog"
interpreted by Rod Lott and Lisa K. Weber. It is the story of a court jester,
the king's fool, who also has the burden of being a cripple and a dwarf. Hop-
Frog and a young lady dancer named Trippetta were forced from their homeland and
given to the king as presents. He treats them rather cruelly when it pleases him
and they have no choice but to submit. But when he is particularly harsh with
Trippetta Hop-Frog devises a plan that will not only avenge the brutality but
also will ensure their freedom. This is a great story with a bit of horror near
the end. The illustration is very well suited as the people are almost
caricatures. The king and his seven ministers all have very large mouths in a
constant wide-open position, like characters out of Monty Python cartoons. It is
great to see the simpleton get the better of his betters. "The Tell Tale Heart"
adapted and illustrated by Ronn Sutton with coloring by Benjamin Wright is one
of Poe's best-known horror stories. Sutton puts a new twist on it by making the
murderous narrator a modern day female with a green Mohawk. She is fan of rock,
piercings and Nazi memorabilia. As the story goes she describes how over time
the old man she lives with got to her. He had a bulging eye that was pale blue
with a film over it. It final got to her, this evil eye and she finally does him
in. She hides the body in the floor and cleans up all evidence of the crime. But
when the police come to investigate screams heard by the neighbors she begins to
hear the beating of a heart that gets louder and louder. It is one of Poe's best
stories and this version captures the essence of the suspense intended. The
other long story worth mentioning is "The Masque of the Red Death" wonderfully
adapted by Stan Shaw. It is a story taken from the Dark ages when the horrific
plague was devastating the land so much so that Prince Prospero took a thousand
Knights and Dames into his abbey fortress. It was amply provisioned and when all
were in the gates were welded shut. As the pestilence ravaged the countryside
these nobles lived safely within. In the fifth month the prince held a
masquerade ball in seven rooms, each of a different color. But one attendee that
will provide the ironic finale to the story disturbs the revelry. These are just
a few of the highlights of a superb volume worth reading and sharing with
others. There are also shorter stories and illustrated poems most of which rise
to the same level of excellence. Like other volumes in the GRAPHIC CLASSIC
series I heartily deem it to be worth you comic dollars.
*****
TRIVIA CONTEST!!!! WIN REAL PRIZES!!!!!
If you think you know the answer to the trivia question send your guess via
Email to me at ComicBkNet@aol.com and you could win the prize. The first six
correct answers will be assigned a number and a roll of the dice will determine
the winner. You should put your real name in your message so we know who you
are. Prizes must be claimed at our store within 30 days of winning. The prize
this week will be will be EDGAR ALLAN POE'S TALES OF MYSTERY: GRAPHIC CLASSICS
reviewed in this column. Only one prize per person will be allowed per every 4
weeks. I will be the sole judge of the correct answer even if more than one
answer could be correct. Submit only one answer per Email please but guess as
often as you like.
Last week's trivia question:
Name the tile from 1997-1999 wherein the main character gained new super powers
by dying.
It was of course DC's RESURRECTION MAN beginning again soon. The winner by the
dice was Kevin Browne.
Here was your no prize question:
What country's current flag consists of a single solid color?
The Libya Flag was officially adopted on November 11, 1977. It is the only flag
in the whole world with just one single color. There are no designs, insignia or
other details on the flag of Libya. Green is the national color of the country.
THIS WEEK'S TRIVIA QUESTION:
Which "friendly rival" of Bruce Wayne pledged $75,000 during Super-Thon Three,
the annual Justice League Super-Thon?
Here is your no prize question:
Which was the last US state to outlaw flogging as a punishment?
Folks, you never know who among the readers is knowledgeable about the question
so don't hesitate to send in an answer - even days after it appears.