REVIEWS
The comics reviewed are chosen by David not by THAT'S ENTERTAINMENT management
or staff. The opinions expressed are his alone. If you have an opposing view you
are welcome to respond to David directly by Email at the address above.
Title: TRINITY OF SIN: PANDORA
Issue Number: 1
Title Story: Three Million Days
Publisher: DC
Writer: Ray Fawkes
Artist: pages 8-15 Patrick Zircher
Artists: pages 1-7 & 16-20 Zander Cannon, Daniel Sampere & Vincente Cifuentes
Colors: Hi-Fi
Letters: Dezi Sienty
Cover Artist: Ryan Sook
Price (USD): $2.99
Release Date: NOW ON SALE
Genre: Super Hero
DC is just beginning its TRINITY WAR event running through the three Justice
League books. Tie-ins are being presented in this title, CONSTANTINE and PHANTOM
STRANGER. This first issue is billed as the prequel and has more significance.
The only character to appear in every NEW 52 title when they first debuted has
intrigued many DC fans. There have been teases here and there but now we finally
get to see Pandora's story from the beginning. It begins 10,000 years ago in
prehistoric Macedonia. Pandora is helping her mother care for her sick brother
and is sent to fetch some medicinal berries nearby. It is in the woods that she
happens on the glowing golden skull with three eyes. As she lifts it up it not
only changes her forever but also unleashes the seven deadly sins that have
plagued mankind since then. They are each represented as different humans, some
with very beastly forms. The seven devastate her village and she is transported
to the Rock of Eternity to be judged with two others, a scene we have seen
before. She is a part of the Trinity of Sin. From that point on she was branded
with scars and cursed to wander the world, eternally undead, to witness the ruin
she had brought forth by unleashing the Seven Deadly Sins. And so her story
passes through the ages from centuries BC to the present. She cannot stop the
devastation but only shelter a few out of millions. She tried desperately to
teach humans to resist temptation but to no avail. Finally rather than teach she
sought to learn - to find some way to stop these monsters. She sought out
Druids, wizards and healers through the ages. She even encountered Vandal Savage
more than once. As time went on she honed her physical as well as metaphysical
talents. Which leads us to the present day and one last encounter that sets her
on the path that will lead to the Trinity War. I like this background and the
tie-in it has to Shazam. I would recommend it to Justice League fans that plan
to follow the entire event. The art is exciting and brilliantly colored. Plan to
read this first before JUSTICE LEAGUE #22, already on the racks as you read this
review.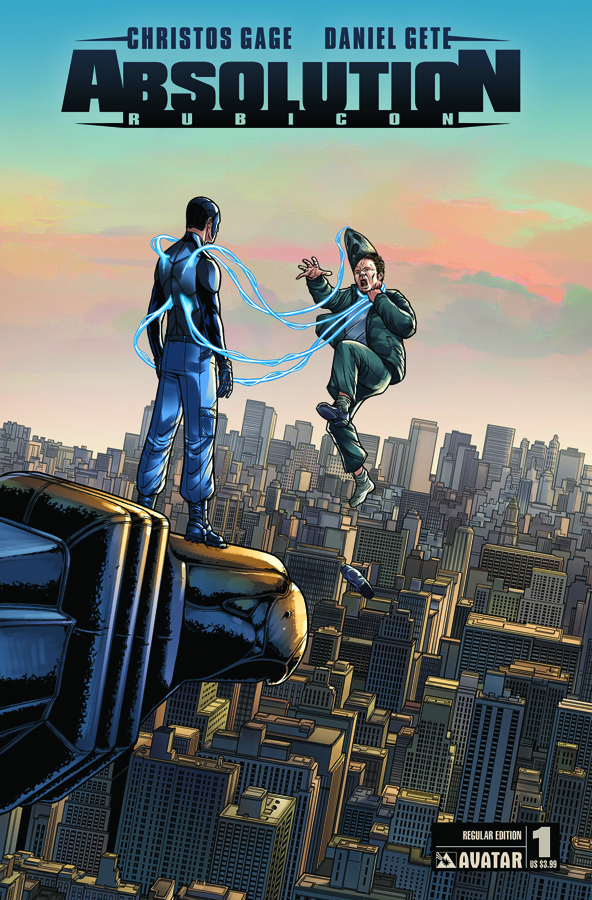 Title: ABSOLUTION: RUBICON
Issue Number: 1
Publisher: Avatar
Creator: Christos Gage
Writer: Christos Gage
Artist: Daniel Gete
Colors: Digikore Studios
Price (USD): $3.99
Release Date: NOW ON SALE
Genre: Anti-Hero
MATURE - Comics on the Edge

It is interesting to see a favorite comic book writer branch out from
established characters of the big publishing companies and do his own
characters. Part of that is due to the fact that they have the freedom to take
the story in any direction they choose when they work unfettered by established
continuity. The main thing is they have more passion for their own creations.
Long time friend of That's Entertainment Christos Gage has revisited his classic
style anti-hero with Avatar Press. Even though this is the second series it is
easy enough to get into the story at this point. The main character is John Dusk
who has the ability to emit constructs out of his body that he can form into any
shape, solidify and use as weapons. He can form shields or even whole protective
bubbles that can transport him in flight. This is very similar to what Green
Lantern can do with his ring. In the first series he was introduced as one of a
few powered beings that work with police departments on especially heinous
crimes requiring their special abilities. But unfortunately John Dusk saw too
much horror and decided to take the law into his own hands executing the really
bad guys who often escape justice through technicalities. In the end he was
caught and jailed but eventually escaped. As this series begins he is now
continuing his vigilante campaign outside the law. It starts by showing the
consequences of a law enforcement officer found to be using illegal methods to
get criminals convicted. The opening scene has one of the criminals set free
because he was convicted mostly on the testimony of John Dusk. This may set a
pattern for other such reversals, even lawsuits. But then since John is free now
some of these set free criminals may have been better off in jail. The issue
explores those who have known him as co-workers and the various attitudes they
have about what he is doing. Even some of the regular beat cops approve of him
eliminating the scum all the while realizing in a public situation they will
have to try to take him in. And there is a new element to the story. Another
vigilante has joined forces with John. He apparently has no powers but has no
qualms about dishing out street justice. The two are clearly going after the bad
guys and in some cases saving regular cops from criminals with powers. But the
mayor has had enough of this. He is about to take an unorthodox approach to stop
John Dusk and the Urban Legend. There is also a major crime boss who plans to
take them out though his plan backfires big time. There is more than one facet
to the story but it all clicks nicely. Avatar gives the creators free rein to go
where they will. There is a bit of extreme violence in some scenes but it is
always contextual. Daniel Gete does a terrific job giving the characters and
action life with strong support from Digikore coloring. If you like KICK ASS you
will probably go for this too. I love it.
Title: AVENGERS A.I.
Issue Number: 1
Title Arc: Initiate
Publisher: Marvel
Writer: Sam Humphries
Artist: Andre Lima Araujo
Colors: Frank D'Armata
Letters: Clayton Cowles
Price (USD): $2.99
Release Date: NOW ON SALE
Genre: Super Hero
At a S.H.I.E.L.D. Black Site outside of DC Hank Pym is being interviewed by
Division Chief Monica Chang. It seems a fleet of their drones were hijacked by
an unknown A.I. A fragment of the code that commandeered the drones has Hank's
name in it. As they discuss how he defeated Ultron (see AGE OF ULTRON #10) it
becomes clear that one of the consequences is a rouge A.I. named Dimitrios, is
on the loose that is mounting cyber attacks on secure military intelligence
targets and has even hacked the president's Email. Well, after some cross words
between the two Chang shows just how she will force Hank to help take this down
when Captain America intervenes suggesting that Hank gather the proper members
of a team to do the job. This is the genesis of Avengers A.I. This first issue
has him assembling his team as we see how he summons Vision and Victor Mancha,
Vision's "brother" by way of Ultron. Hank also reassembles his own personal
Doombot with certain precautions taken so that it will toe the line. These three
will set out to tackle the drones and in the end discover what their initial
target was. The final member of the team shows up in the last panel in a rather
unorthodox manner. So this is preliminary information mostly to set up the
series. The Hank Pym in this issue has a much better attitude and sense of humor
than the one in AU #10AI. The addition of Monica Chang adds a different
additional human perspective to the mix. It remains to be seen, at least for me,
what the last member is all about. The scripting is fluid making it a pleasant
read and the art is as good as it gets. So far it is off to a good start.
Title: SATELLITE SAM
Issue Number: 1
Title Story: The Big Fade Out
Publisher: Image
Writer: Matt Fraction
Artist: Howard Chaykin
Cover Colors: Jesus Aburtov
Letters: Ken Bruzenak
Price (USD): $3.50
Release Date: NOW ON SALE
Genre: Mystery - Black & White
MATURE - Comics on the Edge
This story is about a New York television studio in 1951. The title character is
the star of a live science fiction soap opera that airs daily in the afternoon
on the LeMonde Network. He is Carlyle White and his son Mike is one of the
director's assistants. The story begins on a typical day as the show begins
broadcasting. We see it mostly from behind the scenes in the production booth.
Unfortunately Carlyle hasn't shown up yet but he is only in the last minute of
this particular episode so no one is in panic mode yet. To add to the normal
chaos the big shots are showing potential investors around the studio. We
basically get to meet the main characters through all this - the director, the
writer and some of the cast. But this is a murder mystery and it is not hard to
realize who is the victim. It is interesting as an aside to see the actually way
the show is produced as if every second is choreographed precisely on a
schedule. When a spotlight blows just before the start Mike takes the initiative
to have someone get a new bulb to him so he can go up on the catwalk during the
commercial break and replace it. But what do you do when the star doesn't show
up for his brief appearance at the end? This is live TV so you can't cut the
episode short. The solution is pretty clever. The main plot is only just
beginning. When the star is too late the assistant Libby goes looking at a place
she thinks she will find him. It is not until the show is over that the others
find out that their star is dead. But who killed him and why? And what was he
doing in that apartment? I like the way Fraction has structured this story. He
takes his time building up a lot of characters; even two pages worth are spent
in the office with the investors hearing the pitch on the future of the network.
Since the title character is already dead he makes it feel like an important
thing that we know a lot about everyone else. Is one of them the killer?
Chaykin's art is unique and instantly recognizable. He needs no coloring to
distinguish the characters or the action he needs to convey. I think they are a
terrific team and this comic should not be overlooked.
Title: DEXTER
Issue Number: 1
Publisher: Marvel
Writer: Jeff Lindsay
Artist: Dalibor Talajic
Colors: Ive Svorcina
Letters: Cory Petit
Cover Artist: Michael del Mundo
Price (USD): $3.99
Release Date: NOW ON SALE
Genre: Anti-Hero - TV adaptation
Parental Advisory


The latest hit TV show to generate its own comic book is DEXTER. I will qualify

this review by saying I have never scene an episode of the show but I know the

basic premise. Dexter is a serial killer who kills bad people. I don't know if

this comic provides the essence of the TV character, that is for fans of the

show to decide. There are some elements to this story that may or may not be

from the show. Dexter narrates the story and in parts of it he refers to him

self in the third person. Oddly enough one thing he says is that Dexter is not

actually human. That kind of ties in with a spectral shadow that is cast by him

or perhaps is guiding him when he does his deed or is even thinking of them.

Perhaps it is his mind rationalizing what he does and the visual is there to

emphasize it for us. Or maybe there really is a supernatural entity controlling

his actions. It is not an overwhelming part of the story; it is just there some

times. What at first seems like an unrelated event that starts this issue

becomes relevant at the end. Dexter approaches what appears to be a homeless man

in an alley and Dexter asks him for spare change. But this is no innocent wino

and when he pulls a rather long nasty knife Dexter is ready for him. At first

this seems like an incident thrown in to introduce us to Dexter and his method

but it will tie in unexpectedly to something more at the end of the chapter. The

main plot has Dexter attending his high school reunion at the insistence of his

wife. The event allows us to go back further in time to see events in his life

as a teenager. A school bully plagued him for a long time. After a pep talk from

his stepfather he decides to stand up to his nemesis in his own way. This may be

the first time he contemplated murder. Meeting the bully in the present has an

unexpected result for both of them. This is an interesting comic. It is not just

about someone who enjoys killing but is picky about his victims. The narration

gives us insight to Dexter's personality and thought processes. Aside from the

killing he is a likable character



*****
TRIVIA CONTEST!!!! WIN REAL PRIZES!!!!!

If you think you know the answer to the trivia question send your guess via

Email to me at ComicBkNet@aol.com and you could win the prize. The first six

correct answers will be assigned a number and a roll of the dice will determine

the winner. You should put your real name in your message so we know who you

are. Prizes must be claimed at our store within 30 days of winning. The prize

will be a $10 credit slip, which will be redeemable for merchandise at regular

retail or in-store ongoing specials only. Only one prize per person will be

allowed per every 4 weeks. I will be the sole judge of the correct answer even

if more than one answer could be correct. Submit only one answer per Email

please but guess as often as you like.


Last week's trivia question:
The last issue of a long running comic was titled "Negro Americans the Early
Years." What was the comic series?

The series was none other than CLASSICS ILLUSTRATED. Our fearless leader Paul

Howley got it first. However, no one else got it so the prize is not awarded.




Here was your no prize question:


What city in the US has held the oldest continuous Fourth of July celebration?

Bristol, Rhode Island has celebrated the Fourth of July continuously since 1785.




THIS WEEK'S TRIVIA QUESTION:


Who killed Tony Stark's sweetie, Janice Cord?

Here is a no prize question for old timers:


How many freckles did Howdy Doody have and why?

Folks, you never know who among the readers is knowledgeable about the question

so don't hesitate to send in an answer - even days after it appears.