David LeBlanc was the Editor of the Comic Book Network Electronic Magazine for
over ten years. He is a life-long fan of comics and moderated online comic book
forums long before the Internet became the place to be. David works part-time at
THAT'S ENTERTAINMENT, the Eisner-winning comic store in Worcester, MA.
REVIEWS
The comics reviewed are chosen by David not by THAT'S ENTERTAINMENT management
or staff. The opinions expressed are his alone. If you have an opposing view you
are welcome to respond to David directly by Email at the address above.
Title: ORIGIN II
Issue Number: 1
Publisher: Marvel
Writer: Kieron Gillen
Artist: Adam Kubert
Colors: Frank Martin
Letters: Joe Caramagna
Price (USD): $4.99
Release Date: NOW ON SALE
Genre: Super Hero
Parental Advisory
Obviously this is a sequel to the now-famous series WOLVERINE: ORIGIN in which
fans finally learned how a young boy named James discovered he was a mutant and
the immediate consequences that followed. As a special treat Marvel has included
a few pages from that series – a pivotal scene at that. Now it is 1907. James
has grown and decided to live in the wilds of Canada with a wolf pack that has
taken him in as their own. Grey Scar the leader, Red Streak his mate and the
others share their home and lives with him. James is an adept hunter so this
pack has it better than most. The opening scene shows how James hunts down a
deer and after the rest of the hunters have had their fill he carries the
remains to the den for the mother and her cubs to feed on. The only threat to
the pack is a lone wolf, dark with red eyes and a diamond shaped red tuft of
hair between them. These are the only distinguishing marks on his otherwise dark
grey body. But all things must change and here it is no different. One day on
the hunt they spot a white bear – a polar bear clearly out of its normal
habitat. James watched it from afar as it tried to cope with not being able to
hunt the way it would its usual prey. He even left it berries and fruit but that
too was foreign to this beast. The presence of the polar bear will shatter the
tranquility of the wolf family forever. This is a fascinating story for a number
of reasons. There is no dialogue at all. Only the captions when they appear tell
the story that is otherwise left to Adam Kubert to interpret and bring to life –
something he does with great skill. There is a recurring theme in almost every
Wolverine story that involves him searching for and finding peace, but only for
a time. This opening chapter illustrates that theme all too well. But there is
also something else afoot in the plot. Something "sinister" is at work behind
the scenes. Sharp-eyed Marvel fans will catch the clue in Lone Wolf's
appearance, the tag attached to the polar bear's mouth shown on the last panel
and one other clue. The outer cover is clear plastic that is partially
illustrated. The second paper cover has the rest of the illustration and reveals
what was obscured by the outer cover. If you haven't guessed what that is by the
clues I have already given I will leave it to you to see for yourself. Likewise
the back cover is similarly structured so that when it is opened you see a
partial illustration of what is to come in issue #2. This is a quality product
that should be a big hit and it is worth every cent of the cover price.
Title: DOCTOR WHO SPECIAL 2013
Title Story: The Girl Who Loved Doctor Who
Publisher: IDW
Writer: Paul Cornell
Artist: Jimmy Broxton
Letters: Shawn Lee
Price (USD): $7.99
Release Date: NOW ON SALE
Genre: Science Fiction/TV Adaptation
This special celebrates the 50th anniversary of DOCTOR WHO with a feature-length
story by Paul Cornell, the writer of the TV show. The set-up has the Doctor on
his own in the Tardis when a strange force flings it into our universe, the real
world. The Doctor encounters a 12-year-old girl who is a big fan of the show and
once he understands the situation the Doctor must grapple with the fact that in
this world he is a fictional character, help solve the girl's all too real
problem with monsters of her own and even meets the actor who portrays him on
television, Matt Smith. This is a theme that has been used in comics in the past
and Doctor Who seems particularly suited for this type of plot. He knows he is
in a parallel universe and the more he explores it with the help of Ally the
more he realizes that all the adventures on the telly and in the comics are the
exact same as those he and his past incarnations had. How can this be? His first
hurdle is to convince Ally and her mother that he is whom he says, not just
someone who happens to look like Matt Smith and dresses exactly like the TV
Character. There are a lot of fun moments when he stumbles into the actually TV
shoot and meets a lot of fans at a Dr. Who convention. Through it all he
eventually finds a way back to where he belongs and Ally learns a lesson to deal
with her own problems. This is a most enjoyable comic that is sure to delight
Dr. Who fans. Casual readers can enjoy this self-contained story as it is well
done science fiction and the art is superb.
Title: THE MIDAS FLESH
Issue Number: 1 (of 8)
Publisher: Boom! Box
Creator/Writer: Ryan North
Artists: Shelli Paroline & Braden Lamb
Letters: Steve Wands
Cover Artist: John Keogh
Price (USD): $3.99
Release Date: Now on Sale
Genre: Science Fiction/Mythology
All Ages
You may have wondered about the tale of King Midas who once wished that
everything he touched would turn to gold and found out the old saying is true –
be careful what you wish for, you just might get it. This story takes the
premise one step further. Sure he found that he could not eat because all the
food turned to gold but what if it was worse than that? What if everything that
touched what he touched turned to gold as well? Wouldn't the air come in
contact with his body as well and all those molecules turn to gold? Part of this
comic goes back in time to the days leading up to that fateful wish. It in
itself is a fun story of Midas befriending a wandering fellow king and safely
returning him to his family. At a feast honoring Midas the now-reigning son of
the fellow king asks Midas what he would wish for and the moment changes
everything on Earth. So where do we go from here? How about far into the future?
A space craft carrying a trio of explorers cautiously approaches Earth by hiding
behind the moon and sending out a probe to see what it looks like. They find a
lot of very old satellites orbiting the solid gold planet below. They presume
they can outwit this old protective technology, something the "Federation"
hasn't used in years. But there will be more than one surprise awaiting them
when they make their move to land on Earth. I liked both parts of this comic.
The original fable is well told and is given ample time to play out to the
eventual result. The future story has some interesting characters who seem to be
on the side of the good guys against an evil empire somewhere out there. It
remains to be seen if going forward the story can hold up and provide worthwhile
drama for the next seven issues. The art is very colorful and has a cartoon feel
to it. It is a fun book for all ages. The only problem I thought about was if
the entire planet was turned to gold wouldn't that effect the whole mechanics of
planetary motion – what with the molten core, the magnetic poles and all that
stuff drastically changed.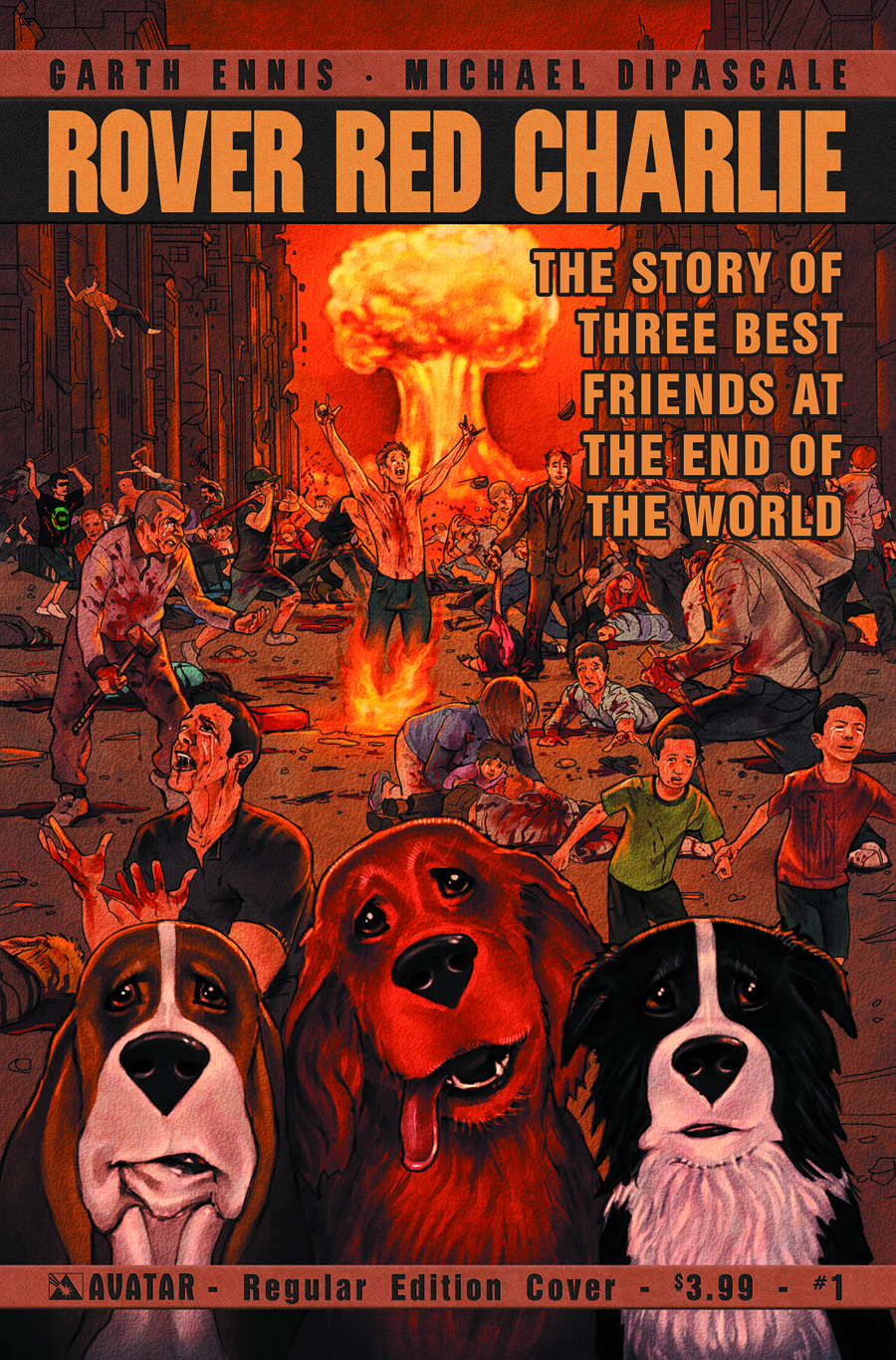 Title: ROVER RED CHARLIE

Issue Number: 1
Title Story: Something Happened
Publisher: Avatar
Creator/Writer: Garth Ennis
Artist: Michael Dipascale
Letters: Kurt Hathaway
Price (USD): $3.99
Release Date: NOW ON SALE
Genre: Science Fiction
Mature – Comics on the Edge



This comic is subtitled, "The Story of Three Best Friends at the End of the
World." The three friends are the title characters and are all dogs. The story
is told from their perspective as it begins shortly after some apocalyptic event
that made all the humans, they call them their feeders, want to hurt each other
and themselves. Charlie is a seeing-eye dog. In his case his feeder decided to
douse himself with gasoline on the subway platform and light up. This posed a
problem for Charlie because his leash was still firmly wrapped around his
owner's arm. There is no hope of help from any humans who are either dead,
trying to kill themselves or others and are babbling incoherently. Fortunately
for Charlie he had met other dogs, Rover, Red and Max at the dog walk in the
park nearby and they have all come to the platform and assessed his plight. Red
is courageous but dumb. Rover, the brains of the outfit, suggests they all bite
through the leash to free Charlie. Max is just a dick and just wants to get out.
Once the four are above ground they have to decide on a course of action. The
visuals make it clear that the problem is universal. Planes are falling out of
the sky, all traffic has crashed or stopped and any humans around have gone
bonkers. They need to find a keeper or feeder that hasn't been affected! This
really affects Charlie the most because of his training. He is supposed to help
feeders. When the others see an impending change taking over a feeder the others
know enough to flee but Charlie hesitates. This is a fascinating comic just
because of the perspective from which it is told. Each of the three main dogs
has a unique personality that sets them apart. It is often funny to read the
dialogue between them except for the horror that is going on all around them.
They will likely never understand what is happening or why, and we probably
won't either. This is a story of survival that promises a whole new twist on the
end of the world genre. The art, like most Avatar comics, is photo-realistic,
brightly colored and at times gruesome. It is not as graphic as CROSSED and the
like but it still can get bloody. I am already invested in the fate of these
three dogs and you probably be too once you read this issue. Check it out.
Title: THE SAVIORS
Issue Number: 1
Publisher: Image
Creators: James Robinson & J. Bone
Writer: James Robinson
Artist: J. Bone
Price (USD): $2.99
Release Date: NOW ON SALE
Genre: Science Fiction
Black & White
Mature – Comics on the Edge
Tomas Ramirez has reached a point in his life where he is entirely satisfied
with his place in it. He works at a small gas station in a small town called
Passburg somewhere out west. Others his age mostly moved out after high school
but he is content to work at the garage, rent a room from his uncle, date a
local barmaid on occasion and just get high to pass the time otherwise. Nothing
amazing ever happens here and even the Sheriff is tolerant of Tomas' weed habit.
Everyone just seems to get along. Tomas has a friend named Frank who runs an
auto junk yard on the east side of town. He will figure into the story after
Tomas sees something he can't believe. While lying on the aqueduct wall and
getting high one day he hears a strange language. As he peers over the wall he
sees the sheriff and a military officer having a discussion except their faces
are not normal – they are lizard men. Tomas quickly motorcycles away to tell the
only person who might listen to him, Frank. What follows is a frank discussion
about how much Tomas has been smoking. Perhaps he should cut back a bit, just to
be sure he is not seeing things. As you might guess that is not the problem and
what follows is a frantic race for survival. How big is this secret and how far
spread is it in the town? Tomas may have an ally in a stranger who was passing
through who is apparently more than he seems. It all ends in a big cliffhanger,
literally. I like the way Robinson is pacing the story. The first few pages set
the mood for what is life as normal for Tomas and then he gradually starts
turning it all upside down. J. Bone is a very good black & white artist who uses
minimal detail and good grey shades to get the job done. So far it is very
enjoyable and worth the fair price being asked.
Title: GHOST
Issue Number: 1
Publisher: Dark Horse
Writers: Kelly Sue DeConnick & Chris Sebelea
Artist: Ryan Sook
Colors: Dave McCaig
Letters: Richard Starkings
Cover Artists: Terry & Rachel Dodson
Price (USD): $2.99
Release Date: NOW ON SALE
Genre: Super Hero/Horror

Now that Dark Horse has re-introduced Ghost in a zero issue and a mini-series

they have launched an ongoing title. There is a brief text at the start that

explains that Elisa Cameron discovered that the mayor of Chicago was an extra-

dimensional demon who had been replacing high officials, possessing them

actually, with demons from his world. Elisa was banished to the other dimension

but two paranormal investigators Vaughn Barnes and Tommy Byers accidentally

yanked her back. Now she only has partial memory of who she was but on the plus

side she has powers to use against the demons. She can fly, become intangible

and best of all she can yank the demons out of the human hosts, when she finds

them. The main one has been pulled from the mayor but has found a new host, the

vain and jealous Doctor October. This first issue of the series gets right into

it as Vaughn and Tommy have helped Elisa find their next target. The opening

scene shows us just how this works as Ghost chases down the target and then

pulls the demon right out so she can destroy it. The only thing disturbing to

Elisa is that she thinks she may have known the host, who did not survive the

possession. So the main plot has the trio, with the help of Tommy's girlfriend,

searching for leads to possessed people while this recent victim has Elisa

wanting to go in a different direction. There is a subplot involving a serial

killer called the White City Butcher. Tommy and his girl want to track him down

while Vaughn wants them working on finding more demon-possessed people. Of

course without Elisa's co-operation it is a moot point. She is determined to

find out as much as she can about the last victim, James, for clues to her own

past. As we see from the way this first chapter ends it is the right choice for

a number of reasons and just may lead the entire crew to major revelations about

the plans of Doctor October. I found the original mini-series a little hard to

get into, there was too much detail to learn to make sense of what was going on.

Now that the team has settled in to a routine and a purpose the plot moves along

nicely with sufficient mystery yet to be revealed anyway. There is a turning

point at the climax that will pose a big choice that Ghost will have to make and

that really peaked my interest. The art is very good in this one with lots of

panel arrangements structured to suit the action at the time. The coloring is

also top notch. This series is off to a good start. If you hesitated on the

mini-series I suggest you give this issue a try. It is really a decent comic.


*****
TRIVIA CONTEST!!!! WIN REAL PRIZES!!!!!

If you think you know the answer to the trivia question send your guess via

Email to me at ComicBkNet@aol.com and you could win the prize. The first six

correct answers will be assigned a number and a roll of the dice will determine

the winner. You should put your real name in your message so we know who you

are. Prizes must be claimed at our store within 30 days of winning. The prize

will be a $10 credit slip, which will be redeemable for merchandise at regular

retail or in-store ongoing specials only. Only one prize per person will be

allowed per every 4 weeks. I will be the sole judge of the correct answer even

if more than one answer could be correct. Submit only one answer per Email

please but guess as often as you like.




Last week's trivia question:



Which of the COMIC'S GREATEST WORLD main characters made his/her initial comic
debut in a non CGW comic?

"X" made his debut in DARK HORSE COMICS #8. MECHA would also be a correct

answer. The Winner by the dice is Mauricio Carvalho.




Here was your no prize question:



What is the most popular flowering plant in the US?

The poinsettia is not only the most popular holiday flower, it is the number one

flowering potted plant in the United States, with over 65 million plants sold

nationwide. In the United States, December 12 is National Poinsettia Day.




THIS WEEK'S TRIVIA QUESTION:



Who was the first super hero to team up with Batman in BRAVE AND THE BOLD?

Here is your no prize question:



What is the most common element (by mass) forming the planet Earth as a whole,
forming much of Earth's outer and inner core. It is the fourth most common
element in the Earth's crust.

Folks, you never know who among the readers is knowledgeable about the question

so don't hesitate to send in an answer – even days after it appears.